Has a multicultural population of delicious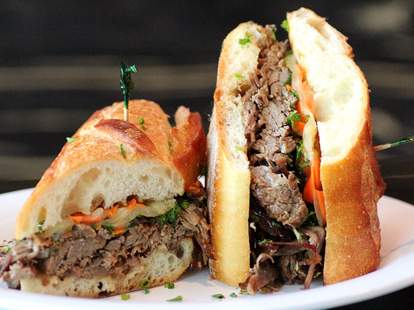 The District was a police drama that aired on CBS from 2000-2004 and starred the dude who played Coach as some sort of police commissioner in DC. Justin Theroux was also on it, but it's unclear what he did. Anyway, now you know what sort of shoes The District sandwich shop has to fill.
Started by a trio of friends tired of heading all over town to get their sandwich fix, TD offers an all-star lineup of bread-wrapped goodness from around the world to make sure they can satisfy even the pickiest of eaters, though it's doubtful the kid from A Christmas Story will ever actually show up. But just in case, prepare to get in line behind him to get your hands on:
Hot Sandwiches: If you can't stand the heat get yo' a** on to the next section, because this one includes warm-to-the-touch numbers running from the housemade roast beef, Swiss, and horseradish District Dip, to the lemongrass-marinated pulled roast beef Saigon "Banh", to the tomato & fennel soup-paired Old Reliable with tomato, basil, smoked mozz, muenster, and blue cheese.
Cold Sandwiches: A cut o' the cold stuff includes The Mediterranean with ham/ salami/ Parmesan/ smoked mozz/ olive tapenade on an oregano ciabatta, or the not-quite-kosher Lox with a caper cream cheese and sugar glazed bacon.
Breakfast Sandwiches: They'll start stacking bread at 9a to serve the early birds-that-don't-eat-worms masterpieces like the Ultimate Breakfast Dip (ham/ muenster/ Meyer lemon & thyme aioli on griddled sourdough dipped in a spicy tomato broth and topped with a fried egg), and the French toast-sandwiched ham/ turkey/ Swiss/ sliced pear/ caramelized onion Olde Monte served with strawberry jam, which won't do much for your shoes, but'll help fill the rest of your clothes.