Your noodle house is here, stupid American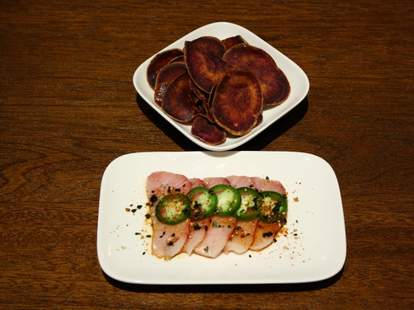 Brilliantly calling you an outsider so you'll do anything to get in, Gaijin (or "foreigner") Noodle + Sake House's just popped up in a slim little Gaslamp spot right next to the Shout House, and comes sporting two bars (sake & kitigori) and a dedication to authenticity so strong they brought in a "cultural consultant", who immediately told them to go buy, like, 60 cases of Zima.
Steel your belly for:
Starters: Sake! Sake! Sake! And less alcoholic numbers like a spicy Crying Tiger Skirt Steak dressed up with red onion, garlic, cilantro, green onions, and shallots. Then: Sake!
Noodles: These Uni Green Tea Soba noodles are loaded with garlic/ scallion/ lobster dashi/ sake/ uni butter/ garlic chili oil/ shiso/ furikake and are sometimes referred to as "the Gucci of noodles" because they're crazy good Man(e)!
Yakitori: The Nick Lachey-pwning 1000-degree Japanese grill will be churning out skewered-and-seared bits like Brandt beef skirt steak, Duroc pork kimchi, Nueske bacon-wrapped asparagus, and marinated jidori chicken heart, which you can prove you don't have simply by ordering. But, then you will have it, and thusly become part of a really delicious Japanese koan.
Kakigōri Cocktails: The guys from Snake Oil Cocktail Co. have dreamed up a sake-paired (shot included with each cone!) list of soju-/sake-based Japanese shaved ices like the sweet nigori and milk "Black Sesame", all designed to create a "sensory experience" that hopefully feels like Zomething Different.