Though most people probably already guessed that it's a playfully named bathhouse for the Open Genealogy Alliance, Ogawashi's actually downtown's newest Japaneatery from the SD vet behind W A and PB Sushi. Housed in the former home of the RedZone, Oga's remixed it by adding two large bars that now span the back, dark wood booths, and color-changing lights that'll totally make you see your food in a new way... because they change colors. Foodstuffs include modern Japanese small plates like the Yummy Stick w/ fried whitefish, Italian seasoning, mayo, eel sauce & mozzarella, along with a massive specialty roll menu highlighted by a self-affirming baked number called the "Good Choice Roll" (shrimp, scallop, crab, tempura flakes, asparagus, avo, masago & unagi sauce), and the crab/ asparagus/ avo/ baked whitefish/ unagi Blossom Roll, which you're pretty much guaranteed to (Bia)like. The equally extensive drink menu goes beyond sake and Japanese brews with crafts like Bear Republic and Ballast Point, in addition to a host of handmade cocktails including the Bloody Wasabi w/ Tito's vodka & wasabi-stuffed olives, and the Karai Mule, which kicks it with tequila, serrano pepper, and Fever-Tree Ginger Beer that likely got that fever because its pale, soulless kind has no business standing all day in the sun. But if you're just looking to get sake bombed, fear not: they'll gladly pour you one of their signatures, ranging from a classic Rock Sake and Sapporo number, to the Grand Marnier/ Blue Moon "FiftyFifty", though take them sparingly, lest those be the odds of you seeing your food in a whole new way... again.
Recommended Video
Wil Puts Ranch Dressing On Everything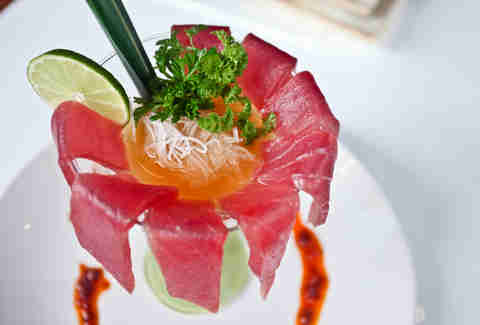 Previous Venue
Next Venue
Venue Description
1. Ogawashi
1100 5th Ave, San Diego, CA 92101
The bar for trendy sushi is obviously set really high (thanks, Nobu), and Ogawashi definitely exceeds San Diego standards (which are...?) for fine sushi dining. To help you really engage with your meal, they've hooked up color-changing lights and two large bars -- in which they proudly boast an extensive, unique sake list (are sake bombs still legit?) and craft beers. Oga is also another resto-child from owner Suyong Yi, who heads up P.B. Sushi - so this ain't his first rodeo.