Because the hyena only gets, like, scraps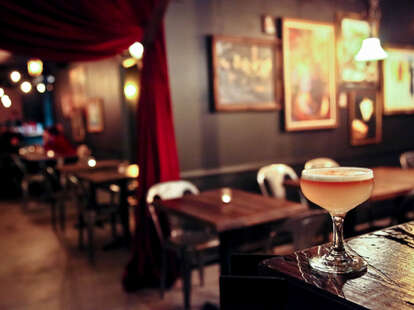 From a couple of like-minded partners you'll frequently see mingling and, more importantly, mixing behind the wraparound, copper-topped bar, TLS's a cozy, eclectic hideaway (furnished with taxidermied antelope heads and Chinese reproductions of famous paintings tweaked by local artists) that's all about "meticulously crafted" cocktails and exotic meats, so expect to see a lot of Dolph Lundgren.
Because San Diegans are a fat, sad people intensely health-conscious, the menu prominently features gamier meats for their leanness, and runs from radical starters like antelope sliders stacked with smoked Gouda/ red onion marmalade, to feral-beast belly-fillers like bourbon-glazed wild boar ribs, buffalo Bolognese with bone marrow, and a grass-fed beef burger with wild boar bacon/ fried duck egg/ smoked cheddar/ shallots appropriately titled "Animal Style", proudly rocking the quotation marks so In-N-Out's lawyers don't give them the ol' In-N-Out. Libations pay homage to the good ol' days with classics like the Pisco Sour, twisted classics like the Papa Hemingway with orange bitters instead of simple syrup, and straight-up original stunners like the Monks Gone Wild (strawberry-infused Pimms/Green Chartreuse/ lemon/ ginger beer) and the wallop-packing anejo/ maraschino/ Bärenjäger/ bitters El Oso, which means "the bear" in Spanish and "the drink that will eventually make you try to sext your ex" in English.
Knowing their hop-head audience, they're kicking off with eight bottled brews and the same amount of taps pouring the choicest of locals, plus slightly rarer finds like apple-infused Éphémère from Unibroue and Prima Pils from Victory, which Dolph will inevitably claim after taking a sip and realizing it doesn't have a Rocky finish.