O'Side's favorite BBQ moves South, brings booze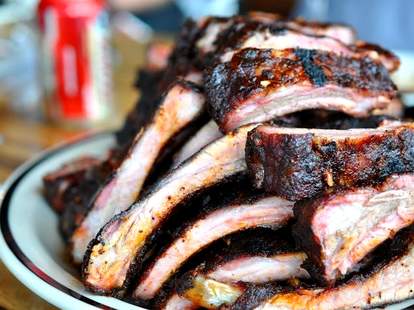 With both a name and food good enough to suggest they are actually part of some kind of Faustian bargain, Felix's BBQ With Soul has just opened up their first South county location in a former soul food spot (but not one with BBQ!!). The set-up includes 50 Cent and Ryan Phillippe a lounge in the front (where live jazz/soul will kick off this Saturday), a granite bar to the right, more formal dining to the left, and a monstrous patio out back.
They'll be grilling up all the BBQ you know/lust after (baby backs, beef short ribs, smoked tri-tip, pulled pork, etc.) in their "genuine hickory wood-burning pit", as well as whipping up crisp-fried Alabama chicken wings marinated for 24hrs, and a slew of "meal(s) on a roll" like the Alabama Club served with smoked turkey/ a consuming hatred for anyone from Tennessee. Friday through Sunday they'll have an "old-fashioned country breakfast" menu stocked with a shload of omelets, fried chicken and Belgian waffles (also available in sweet potato), plus eggs paired with catfish filets done up "Louisiana-style" -- so expect them to come in a sleeveless LSU sweatshirt and Git R Done trucker hats.
With a little help from Smoke & Mirrors Cocktail Co, the bar has some serious drink cred, especially once you check out the "Savannah Style", with smoked sea salt, bitters, plus both Leopold Bros Georgia Peach bourbon, and a second bourbon infused with baby back fat droppings that sounds so flipping amazing, you know it'll sell out Faust.