More localized than novocaine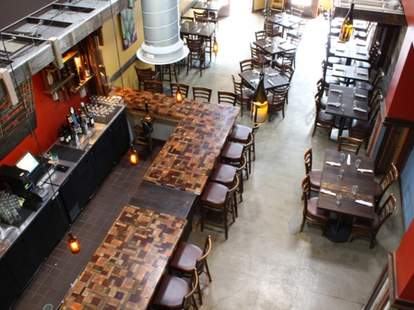 These days, keeping it local is tough, what with Chrissy Russo pregnant, and Aloha Taylor irrationally refusing to photograph her outfits of the day, despite having the best name ever. For a community-conscious spot that Chrissy and Aloha would hit up after telling Brad Wills they're going to En Fuego, check out Local Habit.
From the dudes behind Eco Caters, LH's a 60-seat farm-to-table/ Cali-craft beer Hillcrest haunt adorned with oversized pics of the farms they source from, and reclaimed wood used for everything from the Tetris-y L-shaped bar to wooden stalactites, or "woodsicles", dripping down from the ceiling to form the beer and wine racks, all constructed by a bartender following the path of Christ in that he's all about carpentry and doling out booze. The native Louisianan chef (who makes all of their meats/ sausages in-house) is rocking a menu with "Cali-Creole flair", which includes unique sandos like a toasted coriander & oregano chicken sausage/ smoked beer-braised onions/ house aioli number on a whole wheat baguette, plus Neopolitina-style pizzas like the Smoked Pork Loin (w/ red onions, Petaluma mozz & jack), and daily/ weekly specials like a Bacon & Egg 'za stacked with enough protein to get you totally yolked...depending on how they cooked the egg. Drinks-wise, they're keeping the winos contented with 11 selections from family-owned vineyards, as well as 12 rotating taps of Cali crafts, plus 14 bottles ranging from Russian River Salvation and Damnation, to Port Shark Attack, though it may still be too soon to drink that around Pillbox.
Because Brad Wills needs something to drink, they're also brewing (and tapping through a repurposed old-school Hotpoint fridge) their own root beer, ginger ale, and fermented Kombucha, which usually comes from China, just like those weather patterns Aloha keeps telling us about in her annoyingly tasteful, conservative get-ups.