From the former Kensington Grill chef (and 2009 Cali Resto Assn. Chef of the Year!) and his Chrissy Russo-esque babe of a partner, this new walk-up eatery sports a cedar-lined, covered back noshing area, is named after the owners' pet oinker, and specializes in expertly preparing its delicious relatives. Sourcing as much as possible from local farms, the rotating menu will change daily, so be warned that it's highly likely the most popular items "will sell out", as if they didn't already to get that damn popular. Pork Sandwich: This larger-than-it-looks 'wich from heaven is stacked with pepperoncini/ pickle relish and pig three ways: chicken-fried loin, bacon, and pulled pork, obviously cooked by someone who's uncocking their wrists way too early on the down swing. Pork Belly: Stop thinking about having sex with Hype Williams' movie and snag this treat doused in a sweet & spicy glaze and served with an apple/ radish/ frisée salad. Pork Poutine: Not to be overlooked just because it's a Canadian invention, the PP (ha!) consists of fries covered with pulled pork, bacon, and white cheddar gravy, which doesn't sell out for as much money as the Asian cheddar gravy, since, on average, that stuff is 4.2% richer.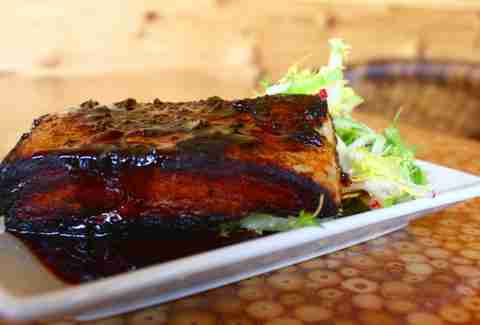 Previous Venue
Next Venue
Venue Description
1. Carnitas' Snack Shack
2632 University Ave, San Diego, CA 92104 (North Park)
At Carnitas' Snack Shack, just about everything is influenced by pork, from the menu of bacon-heavy fare to the big black pig that sits atop the roof. In true southern California fashion, 100% of the seating is in an outdoor area out back that's shaded by umbrellas and wooden roofs. The space includes a spacious bar serving up wine, beer, and snacks (also pork-focused) like chicharrones and pork belly.