The weirdly eclectic Vietnamese/ Thai/ Chinese/ Italian vegetarian spot Sipz has just opened their second location, this time in North Park, featuring signature dishes like Walnut Shrimp, Spaghetti and Meatballs (note: probably don't have meat in them), and a broccoli/ carrot/ celery/ bell pepper/ baby bok choy mash-up they call Vegetable Surprise, but you'll call Not Really A Surprise As Clearly This Thing's Got a Lot of Vegetables In It.
Previous Venue
Next Venue
Venue Description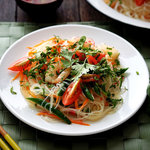 1. Sipz Fusion Cafe
3930 30th St, San Diego, CA 92104 (North Park)
The North Park outpost of Sipz is just as good as its Kearny Mesa sibling. The Asian fusion spot is a go-to for any vegetarian or vegan in the area, serving up meatless favorites like Wok Fried Drunken Noodles and the signature Caterpillar Roll (Teriyaki-marinated shitake, yam, and cucumber, expertly rolled in avocado, sesame, and drizzled with teriyaki). It's a popular lunch spot, what with people bringing all their carnivorous friends to convert them to the surprisingly tasty faux-meat dishes here, but doubles as an equally solid take-out option too.