Tested pizza propped up by new beer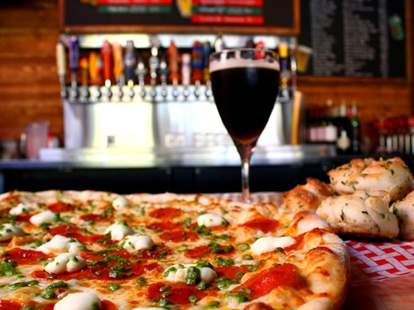 Some expansion moves necessitate others: hiring more people requires obtaining more office space, and getting a pool impels building a pool house -- unless it's an above ground one, in which case you've already spent your month's food money. From dudes who predict adding beer will lead to their customers needing to sit down: the new Ciro's Pizzeria & Beerhouse.
Outdoing their standing-room-only Gaslamp pie slingery with a wash of new brews and sandos borrowed from the guys at Olde City Grill, the new Ciro's boasts patio dining and bar-height actual sit-down tables just two blocks from the breakers on Garnet, representing their effort to bring a "hot piece to Pacific Beach", even though you're better off throwing murder weapons directly into the water. Significantly expanding on their original locale's grand total of two beers, they've got 50 brews, including 35 bottles like Unibroue's 9% ABV La Fin du Monde Tripel, and 22 taps spewing the glorious likes of Sculpin American IPA from Ballast Point, and Goose Island's Belgian-style Sophie, which's only tapped in one other SD bar, so you know she finishes clean. For shoveling, they've got their signature strombolis, calzones, and NY-style pies like the pepperoni/ sausage/ 'shrooms "Ciro's Special", the sundried tomatoes "Pesto's Revenge", and the broccoli/ Cheez Whiz/ mashed potatoes/ garlic-heavy "Dankalicious", which must be inspired by Fergiliciuos, as it's dressed with crazy stuff, and will leave your breath smelling gamey.
And should you want to branch out from Italiano, they've got new cheesesteaks like the beef or chicken/ sharp provolone/ grilled onion/ sauteed 'shroom "Aristocrat", a term defined by someone with an above ground pool as...literally anyone else.