Surprisingly not a reference to a little known cast member on Salute Your Shorts, SL is a new raw fish purveyor in the former Kabuki Sushi spot, now remixed with lime green walls, a huge painting of lips (!) behind the bar, and well over 30 specialty rolls like the tempura shrimp/ crab/ cucumber/ avo/ chopped soft shell crab/ eel sauce Homeless Roll (way smoother than the traditional shopping cart).
Recommended Video
Potato Skin-Breaded Queso Balls Will Make All Other Apps Obsolete
Previous Venue
Next Venue
Venue Description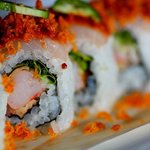 1. Sushi Lips
4475 Mission Blvd, San Diego, CA 92109
Use those sushi lips of yours to devour one (or twelve) of their special rolls - starting with the Homeless Roll (tempura shrimp, crab, cucumber, topped with avocado, soft shell crab and eel sauce) which isn't exacccctly true to its name...and maybe finishing with the Kobe Beef Roll (tempura shrimp, crab, avo, cucumber, topped with kobe beef and special sauce). It may set you back a pretty Benji, but it's obviously worth it (beef. on your sushi.).