Waving a big sayonara to Bergie's Pub, ST's traded in the burger joint's bright colors for a more modern/subdued feel, thanks mainly to its low-set bar that forgoes the typical refrigerated display cases to give you a better look at the food artists carving up Edomae-style sushi, which beats the pants off the typical pants-wearing fusion shwag. Sashimi-shy eaters will be subtly judged, then offered a selection of familiar-ish cut rolls like the Surfside with garlic & pepper-seared tuna and asparagus, or the spicy yellowtail/ avo/ "Mexican" salsa San Diego roll, which no one is apparently willing to put the Chargers on. More adventurous types can just give the knife-wielder a price range, and let him go wild with sashimi, or order up manila clams steamed in sake and soy. Or just impress/gross-out their friends with the steamed monkfish liver also known as Ankimo, because it doesn't sound anything like "steamed monkfish liver". To instill you with biting wit, they've got soju 'tails like an Oolong Tea Highball, a range of sakes highlighted by the "flagship of the Niigata style" Kubota-Manju Daiginjo, and a trio of Japanese brews on draft that drop to half price at happy hour so, even with your drinking habits, you won't have to say sayonara to your billfold.
Recommended Video
This Beef Sandwich Costs $85
Previous Venue
Next Venue
Venue Description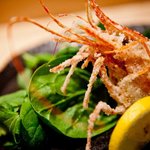 1. Sushi Tadokoro
2244 San Diego Ave, Old Town , CA 92110
Nestled amongst the Mexican restaurants in Old Town is Sushi Tadokoro -- serving some of the freshest traditional Edo-mae style sushi in town. They're only open for dinner and the place is small, so do yourself a favor and make a reservation.