First off, just know the good people of Sabuku don't want you to die. They think you have a lot to live for. Butttt, in case you do perish from their Suicide Special -- three super-spicy, mouth-numbing, Chrissy-Russo-hot rolls -- they will ask that you pay before eating, and the menu even includes a warning that they aren't responsible for divvying up your Matt Christopher books in case you do, you know, kick the dying bucket. But if you're still down, know you'll be tempting fate with: The Thai Won on Roll -- panko-crusted sea bass and spicy crab on the inside; spicy tuna, crunchies, and scallions on the outside. Oh, and also a yuzu wasabi bin dressing and a Thai chili, garlic & ghost pepper aioli. Once you chug the cucumber water they gave you (wait, don't! It's a trap -- it only acts to spread the fire!), then try the Naughty, Nice & Everything Spice Roll w/ spicy tuna, jalapeno, tempura green onion (inside), yellowtail, avocado, spicy ginger aioli, and "XXX sauce" on the outside. Still feeling not dead? Then opt for the cheerfully named On Death Roll, which seems okay because it's just tempura fried soft shell crab, blackened albacore, avocado, ponzu sauce, and green onions, but is aggressively not-okay once you dip it in "Suicide Sauce" made from a blend of roasted tomato, garlic, onion, cilantro, citrus, and Trinidad scorpion peppers, which are "the world's hottest" (sorry Chrissy Russo).
Recommended Video
These Onion Rings Are Stuffed With Cheeseburgers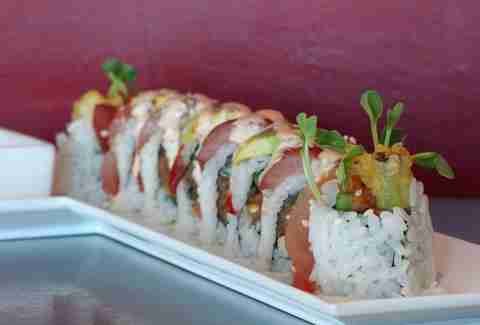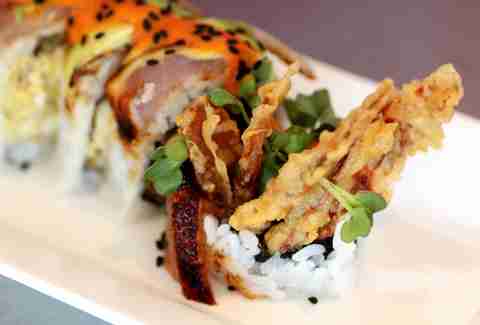 Previous Venue
Next Venue
Venue Description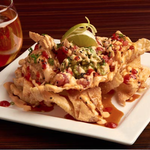 1. Sabuku
3027 Adams Ave, Normal Heights, CA 92116
This is the most erotic sushi in San Diego - quite simply because the Suicide Special might literally light your mouth on fire (and all internal organs shortly thereafter). Fret not, wash it down with some sake and order the next round of rolled-rice goodness. Their clean, slick interior matches that of their flavor-infused creations, taking sushi and Americanizing it exactly to your high standard liking.