Once you're comfortable on a certain level, it may be time to upgrade -- or at least that's how every woman sitting at Flavor Del Mar rationalizes hitting on the Chargers' adorably overpaid DB, Eric Weddle. For the results of some elbow-grease upgrading that won't happen after 2a at Jimmy O's, check out Leroy's Kitchen + Lounge.

From the crew behind super-casual spots like Lil' Piggy's BBQ and MooTime Creamery, LKL's their first more upscale, non-farm-animal-referencing project, featuring a mountain lodge feel throughout the 90-seat, flatscreen-boasting bar and dining room, which also has a street-viewing belly bar, though Hype Williams insists the view is less street, and more about our urban culture in general. Their multifarious vittles range from all-day starters like Bleu Pepper Chips with Point Reyes and a hot pepper jelly, to lunch stuff ranging from a brie and fig jam Jidori Chicken Ciabatta, to evening eats like porter-braised short ribs and the maple bourbon-glazed Duroc bone-in pork chop slung with ginger pears, unlike ginger pairs, which...RUN FOR YOUR LIVES -- THERE'RE TWO OF THEM!! The bar's stocked with over 35 varieties of high-end hooch, 16 tapped crafts like Lost Abbey's Devotion and Deschutes' Hop in the Dark, plus "stiff signature cocktails" like the Kama Sutra (rum, mango, and mint) and the rye/ crème de Casiss/ basil Beastly Bramble, into which you'll be thrown, after attempting to employ stuff learned in the previous cocktail's section about other people's wives.

To hit taste buds from every angle, they're pouring pick-three beer tasters separated into IPA, Belgian, and SD flights, aka what our NFL squad is willing to give anyone eight Saturday nights a year who can even kind of play defensive back.
Recommended Video
This Barbecue Sausage Sandwich Is Served on Donuts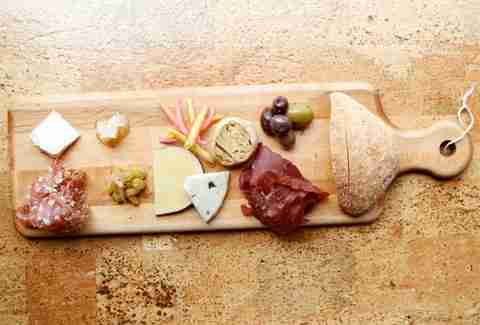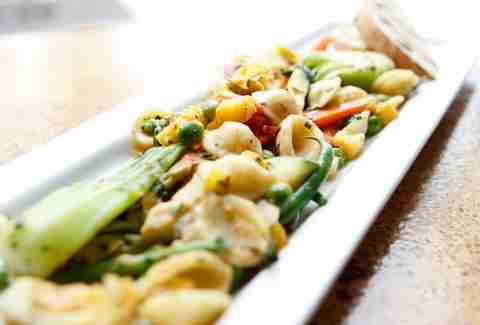 Previous Venue
Next Venue
Venue Description
1. Leroy's Kitchen + Lounge
1015 Orange Ave, San Diego, CA 92118
A departure from conventional Coronado restaurants, Leroy's Kitchen + Lounge is committed to serving food that changes with the seasons, part of a larger promise to keep things fresh, local, and sustainable. This means that presumably simple plates like buttermilk cornbread are intensified with bacon bits and blackened jalapeño butter, while scallops surprise with escorts of truffle-braised cabbage and roasted cauliflower. In addition to seasonal cocktails, Leroy's Kitchen + Lounge serves red and white sangria, whose fruity profile brightens the husky, earthy flavors of the food.