Though an Everdeen Cafe would just stoke your Hunger, Amardeen plans to combat your stomach growlings by murdering them with arrows! with its huge Lebanese/ Mediterranean menu featuring dishes like the traditional lamb/chicken/shrimp biryani and the Amardeen pizza w/ Roma tomatoes, Parmesan, French feta, and a blend of 12 herbs.
Recommended Video
This Gyro Platter Holds 7 Pounds of Meat
Previous Venue
Next Venue
Venue Description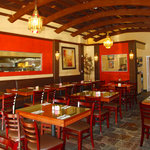 1. Amardeen Lebanese And Mediterranean Cuisine
8915 Town Center Dr, San Diego, CA 92122
We know, you love hummus (even though you make fun of everyone else when they eat it). Just accept that it's probably one of the best dips, sides, added flavors, what-have-you to just about any meal (even pizza. And burgers), and head to Amardeen to indulge in some of the most impressive Lebanese/Mediterranean fare (where hummus and baba ghanoush flow like wine). These tasty sides take a slight backseat to more traditional dishes, like the lamb/chicken/shrimp biryani.