Don't go to the <em>Hunger Games</em> hungry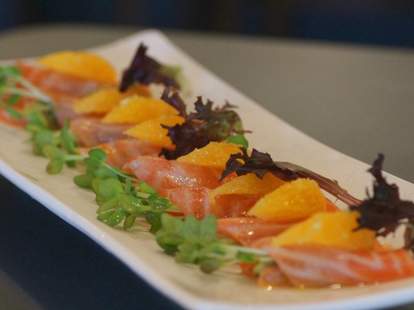 Blowing this Fuze would be a mistake, and not just because that sounds gross and confusing, but also because you'd never get to experience the Korean fusion vittles tucked away behind Mira Mesa's IMAX-equipped shopping center.
If your appetite, like the chance Eric Weddle will not go home with a cougar from En Fuego, is small, stick to fried calamari with wasabi ranch & house tartar sauce, pajun (crisp vegetable pancakes) with teriyaki-esque Fuze sauce, a smattering of Korean rice cakes, or handhelds like bulgogi (Korean-style marinated beef) sliders with scallions, and pico de gallo-smothered, Thai-style pork belly tacos. Heartier appetites will be sated by short rib with potatoes, sablefish with radish & jalapenos, or braised chicken with a gochujang chili-sauce called Dak Doritang, not to be confused with the new Doritos cups designed to spice up orange astronaut drinks.
For now they'll keep you floating with four taps of standards, bottled locals, and a full complement of boozy stuff, before they roll out an in-the-works cocktail menu stocked with deadly creations like the Tombstone with Irish whiskey, Scotch, Guinness & Bacardi 151 -- too much of which will end up making you sound gross & confusing.