Definitely not a concept conceived strictly because the two names rhyme, Po & Pho's a brand-new Vietnamese pho/ New Orleans-style po' boy joint sprung open as a first restaurant effort from a good ol' Mississippi boy and his Vietnamese fiance, both of whom encourage you to stuff your face with: Sandwiches for the Po: While they will be churning out everything from turkey and cheese baguettes to BBQ beef, the real stars of the show will be the classic po' boys, which come standard with shrimp, chicken, or several kids from Little Rascals fish, though the adventurous can get down on an off-menu oyster job. What the Pho? The veggies-on-the-side, chicken/ beef/ pork cold-cures are made all authentic using age-old family recipes, along with specialties like the spicy Mi Quang with shrimp/ beef/ flat noodles/ crumbled shrimp crackers, and a Vietnamese steamed bacon sandwich all dressed up like a banh mi but called a Ba Chi, apparently because getting near this heated pig takes balls. And because they clearly want you to be cooler, they'll chill you off with classic Vietnamese iced coffees, boba/ lychee smoothies, crazy fruit ones featuring everything from jack fruit to avocado, and even mint chocolate Oreo shakes -- the drinking of which is definitely not a concept that'll help you conceive. Because you'll get chubby and stuff.
Recommended Video
This Fried Chicken Sandwich With Sushi Rice Buns Is the Best of Both Worlds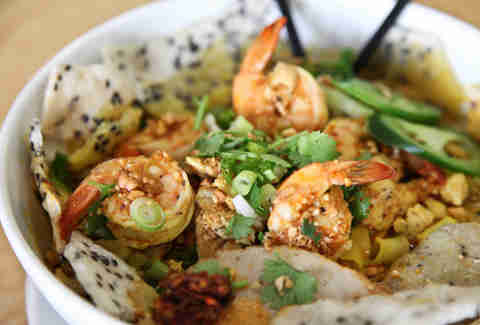 Previous Venue
Next Venue
Venue Description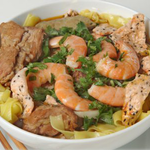 1. Po & Pho
9430 Mira Mesa Blvd, Mira Mesa, CA 92126
Close your eyes and imagine you're in New Orleans...eating a delicious Po' Boy. Now imagine you're eating the same thing but in the San Diego sun, and your order was somehow Vietnam-ized. Now open your eyes and realize this thing actually exists, and it's within your reach at Po & Pho. You can have all your cultures in one by starting with a pork bun, moving to a Vietnamese Bacon Sandwich (Ba Chỉ) and topping it all off with a Mint Chocolate Oreo Smoothie. Nommmmm.