It's been said that the sandwich was invented by the Earl of Sandwich because he was a gambler and didn't want to take the time to have a meal during his long hours playing cards, so he'd implore his servants to bring him meat between two slices of bread. The other gamblers, digging what they saw, would be like, "we'll have the same as Sandwich", and thus, the modern meal was born. And now that you've learned something about sandwiches, learn something else: Generally beloved Sandwich Emporium just opened a new location at Mira Mesa, and for the first time ever, they're slinging the breakfast version of that gambling fool's favorite meal. To the details! New Releases: Breakfast stuff, remember? Like the California Rise w/ roast turkey, cheese, avocado, and fresh cracked egg on a toasted bagel, or the Tuscan morning with eggs, mozz, pesto, and fresh tomato. And like '90s rap group 3rd Bass, they've also got wraps including the Baja Wake (eggs, smoked ham, bacon, pepperjack, hash browns), and the San Diego (eggs, bacon, avo). Classics: You should likely get the Cali Melt (roast turkey, melted mozz, avo, Cajun sauce on grilled sourdough), or crush the Spicy Julio on a toasted roll, with "succulent" roast beef, pepperjack, avo, grilled onions, mayo, and Dijon -- though post-eating, you should consider the time when you could wear things not made from elastic ancient history.
Recommended Video
This Restaurant Serves Burgers on Purple Buns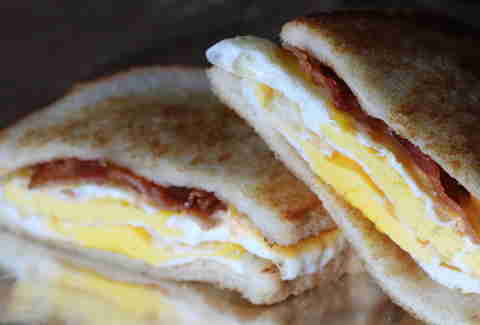 Previous Venue
Next Venue
Venue Description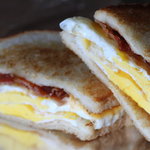 1. Sandwich Emporium
8155 Mira Mesa Blvd, Mira Mesa, CA 92126
What they serve is pretty self-explanatory, so let's get right down to the choices: the Turkey Saigon Grinder with cukes, house Asian coleslaw, pickled 'penos, cilantro, and mayo; or the veggie Apple Harvest with Granny Smiths, avocado, sunflower seeds, and sprouts.