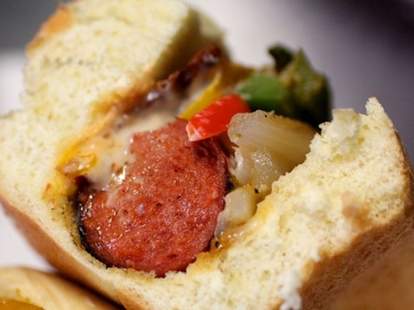 In case the Baha Men ask you who let the dogs out in Coronado, you can now safely place the blame on Delux Dogs -- the upscale hot doggery in Crown City is now open and serving Chicago's Vienna 100% all beef tubesteaks on Bread & Cie buns in a narrow space featuring a stainless steel counter w/ stools on one side, and on the other, a row of, like, infinity two-tops. Or at least six.
What should you get, you ask? Well just follow this handy guide to find out:
If you have seen Fast and Furious 3: Tokyo Drift 70 times and not just because it stars Bow Wow as a dude named Twinkie, opt for: The Tokyo, with a teriyaki glaze, Japanese mayo, grilled onions, sesame seeds, dried seaweed chips, and Sriracha.
If you go down to TJ for the culture and the food and definitely not those shows where donkeys do inappropriate things with not-donkeys, check out: The Border Town, which comes bacon-wrapped with nacho cheese sauce, Tapatio, guac, salsa fresca, and Mexican crema.
If you're just fat, and even reading this much is making you tired, have your more socially acceptable friend pick up a: Delux Chili Dog, with house Jack-n-Coke chili, cheese, onions, diced tomato, and crema.
They've also got chicken apple and Polish sausages, "snax" like a chopped salad, 50/50 tots (half sweet potato/half normal), hand-squeezed desert-pear-infused lemonades, and housemade organic ice cream sandwiches in, like, infinity flavors. Or at least one.