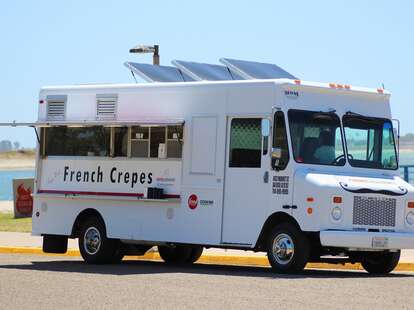 Not to be confused with Napoleon's mother's protests when he made her French Toast, Crepes Bonaparte is a roving, trip-to-Paris-inspired creperie captained by a married duo from SoCal who first burst onto the scene on Food Network's The Great Food Truck Race, and has now undergone some sort of crazy truck-mitosis and split in two. The spanking new one is a custom job with four crepe griddles brought in from France and low-set windows to provide a view of the "beret adorned crepe-crafters" working with from-scratch traditional or gluten-free batter, also one of the requirements in really lame softball leagues.
Get ready to make aggressive stomach-love to crepes that're:
For Breakfast: Absolutely demolish your fast with all-in-one numbers like the California Sunrise with guacamole, bacon, tomato, cheddar, and an egg that's freshly cracked, and more hilarious than anything in that magazine, even though it's just a regular old, non-joke-telling egg.
For Not-Breakfast: Lunch and dinner is covered by beauties like the Caprese, which plays on the Italian quasi-salad with sliced tomato, mozzarella, garlic pesto, and seasoned chicken that barely even blinked when they carved it up.
For The Meal After Not-Breakfast: Get your teeth all sweet with sexy beasts like the strawberry/ Nutella/ whipped cream "Le Classique Strawberry", reminding you that the only way to balance out your really lame number three hitter is to get Darryl to bat cleanup.