Farmer's Market Pasta Salad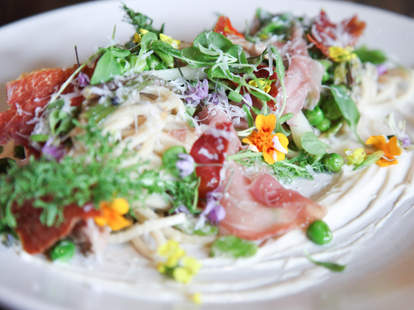 Your sweet, sweet mother has spent most of her life trying to get you to eat your veggies, so it's about time you turned the tables, but in a delicious way that won't force you to ground her and suspend phone privileges. And to make sure you don't ruin everything, we tapped Burlap's Anthony Sinsay to break down exactly how to make a mix & match, Asian-cowboy worthy dish customizable to your momma's tastes.
Step 1: Hunt & Gather Take Mom on a date to Ralph's the farmer's market and let her tell you which in-season veggies she enjoys, and no that wasn't a Jamie Moyer reference.
Step 2: Draw a Bath Before you get all Emeril Live, spoon Greek yogurt into a mason jar, seal it, then bake at 325 for two episodes of Smash (120mins). After it has sweetened from the heat, blend until smooth and let chill, much like you just did during those strenuous first two hours of "cooking".
Step 3: Fry Now that the sauce is all ready for saucing, throw a dash of olive oil in a pan and saute all veggies and some prosciutto over high heat, while boiling up chow mein noodles on the side (NOT PICTURED). Crisp remaining prosciutto in a separate pan just like it's bacon... which it kind of is.
Step 4: Dress It Up Spoon in enough of the dressing to coat the veggies then add a small splash of water to thin things out before stirring in the cooked chow mein noodles.
Step 5: Toss & Plate Fold noodles, veggies, and sauce before removing the dish from the heat, like LeBron occasionally does, when he no longer feels like passing.
Step 6: Finish Him! Top with crispy prosciutto, remaining sauce, and just a touch of Pecorino Romano, then gently remind your mom that there will be no Xbox until her whole plate is clean.