Take one down, pass it around. But, like, sniff the cork first.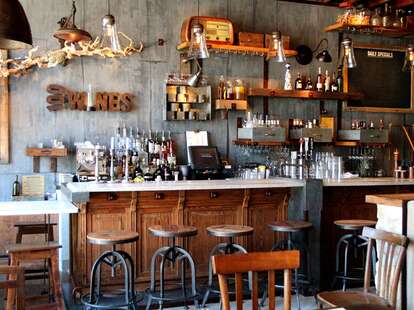 Returning to where they started it all in '87 with the Corvette Diner, the Cohns are hitting Hillcrest again with 100 Wines. The mainland iteration of their successful Maui venture (read "less SPAM"), 100 is loaded with a mysterious, unknowable number of vinos, and a shareable, Mediterranean-leaning menu designed by Bo-beau's Katherine Humphus, plus an "apothecary-inspired" interior boasting custom, French-pharmacy-style wine racks, and old lockers, which AC Slater will likely have to open with his elbow. Some highlights:
Spanakopita: A play on the Greek classic, this flatbread's topped with feta, sauteed spinach, a fried egg, dill cream cheese, and a crumbled phyllo whose flakiness is only surpassed by the Greek economy (your move, The Economist)
Steak Carpaccio: Refined savages can get down on the raw with this raw number done up with shaved Parmesan, arugula, lemon oil, and pickled fennel.
Phyllo-Crusted Sweetbreads: Not really breads at all, these sweet little animal glands are bolstered by crispy pancetta, pea vines, and a mixed berry jam
Cocktails: In addition to some-mysterious-number of wines, the bar's also got cocktails like an absinthe/ berry-infused vodka/ fresh lime syrup number called the Fruity Lautrec, which is the second worst thing a certain jock wrestler could call you after "Preppy".