Espresso's long journey stateside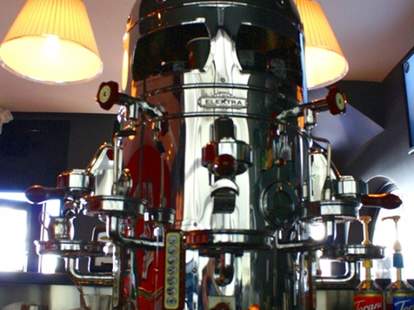 Having a storied past can really augment your reputation, unless it's a Neverending Storied Past, in which case, stop freaking kids out, Rockbiter!! Bringing only 130yrs of storied past to SD's espresso game, Caffe Vergnano 1882.
Founded in that very same year in their name, CV decided to chose SD for their first ever US locale (because of quality of life, and all the "happy people") and're now bringing "a piece of Italy" to the 'crest with their cafe, outfitted with deep red walls decked with photos from other globe-crossing shops, low-back black booths, and a floating raised coffee bar. As per Italian rules, they're "all about the espresso", selling three blends out of grind-your-own silos, all made using their award winning "1882 Crystal" (90% Arabica/ 10% Robusta with beans sourced from Central & South America) from a simple cappuccino that blends continuously to the foam, to specialty pick-you-ups like the espresso/ milk/ sugar/ bananas "Bananino", also the name of a fearful storm pattern that floods towns, while preventing cramps. Kicking off their "Northern Italian lighter fare" menu, they're slinging both morning and afternoon meals, including b-fast's "Savory Cake of the Day" (e.g. Italian quiche) and prosciutto & Swiss "CV1882" omelets, plus lunch eats ranging from a sextuplet of paninis (one loaded with turkey, artichoke hearts, and tartar sauce), to a "Pollo al Marsala" that's sauteed in wine, since doing it in whine requires two cups of 2006 Elisabeth Hasselbeck.
In the future, they're working on a cordoned-off front patio, and a mostly, if not all, Italian beer and wine collection, assuming the accompanying paperwork will ever end. Help grease those wheels, Childlike Empress!!