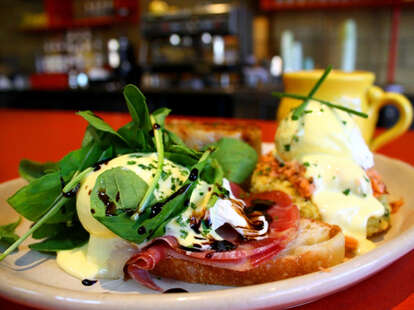 Fresh off the land-boat from the mountainous region known as Colorado, Snooze is an airy breakfast-/ brunch-ery just opening its first location outside of CO in a high ceiling'd locale perforated by giant skylights and a front facade that, like your super-chill posse, rolls up, where they'll be doling out fare so groundbreakingly customizable you'll swear you cooked it yourself, as long as you don't look at and/or taste it.
On the savory side they're dishing out mix-and-match Benedicts like the Upstream Benny with honey-smoked salmon/ chives/ cream cheese hollandaise on housemade bacon jalapeno spoon bread, egg-topped pot pies with rosemary sausage gravy, and a smoked cheddar hollandaise-paired soft pretzel roll stuffed with scrambled eggs, cheddar, and sausage called the Sandwich I Am, though it's soon to become the Sandw-AHHGHRHHHHYOU'REBITINGME. Freedom toast lovers should demand Sticky Bun and caramelized apple-/ mascarpone cheese-stuffed Apple Strudel French toasts, while those who love even more freedom can rock a choose-three flight of pancakes and pick from intense options like sweet potato topped with homemade caramel and ginger butter, "Red-Eye Velvet" with eponymous batter/ espresso-infused maple syrup/ cream cheese frosting, and a revolving joint of the day with past examples including banana pancakes topped with peanut butter and bacon, which Elvis already likes on Dead Celebrity Facebook.
Their sip-ables list rocks libations like the Brewmosa, combining OJ and a Belgium-style beer, and another with VeeV acai spirit, sparkling wine, apple juice, and blood OJ, dubbed "The 'In' Cider", which people will swear you are as long as they don't look at and/or taste you.