Even corn dogs are better in threes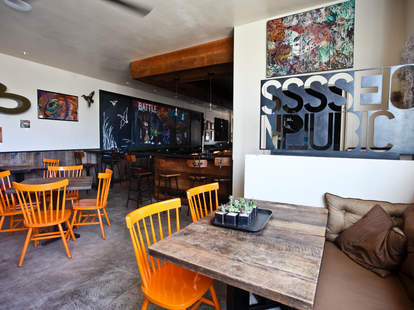 Because they think it's twisted how you used to feed Alka-Seltzer to all those innocent seagulls during your free period, the studs of suds over at Sessions Public are giving you a chance to wax nostalgic on the only school-age thing likely worse than cramming birds' mouths full of effervescent antacid: the food. But instead of just feeding you the sponge-like pizza and Star Crunches that defined your youth, they'll be sprucing up actually delicious cafeteria favorites every Thursday in September, and serving them three ways with an optional pairing flight of four 5oz brews.
Mac: A cheesier three-way than Charlie's Angels and just as eatable, this flight includes an IPA mac with jalapeno & cheddar, one with saison/blue cheese/ bacon, and a sausage-filled number darkened with stout
Corn Dogs: Feeding even the hungriest of corn hogs, they'll be buttermilk-/ beer-battering a regular kosher dog, IPA bratwurst, and chorizo, then pairing each with an IPA honey mustard, Sriracha ketchup, and a housemade sweet chili sauce that's (T)otally Boz.
Gamey Meatloaf Sliders: In case you just happen to be that one weird kid who ordered the meatloaf, they'll be sliding three types between mini-buns including venison with a fig preserve/stout sauce, bison with an IPA & demi-glace reduction, and wild boar with a Sriracha ketchup/ tomato ragu blend
Chicken Strips: Dip these housemade pups in a Dijon IPA mustard, a beer cheese with a bechamel/stout base & Port Salut cheese, or a BBQ sauce made with their dry-rubbed, beer-braised pork drippings that're so good, they'll have you foaming at the mouth like a seagull during lunch at Oak Crest.