Saving the world one wiener at a time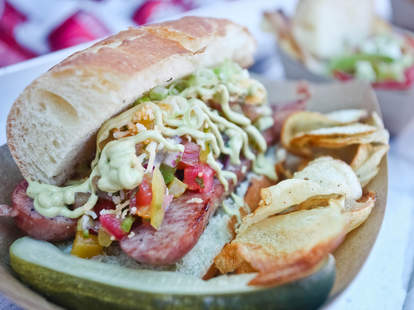 Sure, Underdog was pretty handy what with his atomic breath, flying capabilities, and sultry, sexy Jason Lee voice, but Underdogs Food Truck is going about saving lives in a much more practical manner: by getting someone other than Jason Lee to do voiceovers! making sure they don't starve. Proclaiming in a totally non-creepy way that they want to "put a sausage in you", the two Steves and a Rebecca behind the monster truck are now rolling around town dishing out an artisan-sausage/local ingredient centered menu that will change weekly to rotate in hot, hot links like the
Hong Kong Phooey: You won't say phooey to this sweet onion sausage stacked with sauteed peppers, onions, and pineapple dressed with their Dr Pepper teriyaki. Well, unless you order it.
The Bro Dog: Surprisingly not just for the large sunglasses crowd in PB, this brat's all Mexican'd up with truck-made pico de gallo, avo, cream, and a jack/cheddar combo.
Mac Daddy: Make you jump, jump! And full of a smoked brat covered in bacon mac and cheese.
Johnny Appleseed: If you happen to not be sweet enough already, pick up this brioche French toast number topped with pork apple sausage, truck-made applesauce-kraut, and a side of maple syrup that'll make it so decadent it should be reserved for nobility, or at least someone not named Earl.