You know you want a donut burger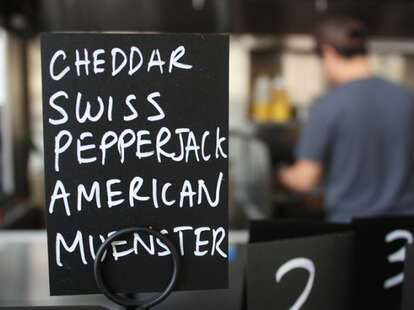 Making a name for yourself when you're surrounded by famous family members can be difficult, though just look how Darrin Wahlberg has handled th--what's that? Wait, his name is Donnie? K, got it now. Anyway, using donut burgers instead of poorly rated cop shows to steal some family spotlight, Little Griddle, opening Thursday.
The first solo project from a 25yr-old dude with mad restaurant DNA (his fam owns Happy Donuts, next-door Ma'velous, and across-the-street Cafico), LG is a mid-Market breakfast n' burger joint that looks sort of like your grandma's kitchen (assuming hers also seats 28), from spatula-and-wooden-spoon-stuffed wall racks, to an old rotary phone, to custom tables made of chopping blocks, no doubt found in NBC's dumpster. The American diner-ish menu sports two pages of bacon-rich breakfast-ables including Spot bagels, donuts, omelets, scrambles, "sammiches", griddle cakes, French toast, and Ultimate Hashbrowns, which're covered w/ three melted cheeses, chives, avocado, and clover sour cream, since Cloverfield sour cream is just too monstrous. And bad. Lunch fare is super burger-focused -- there're 14 Niman Ranch beef patty'd behemoths, including the Volcanic Eruption (bleu cheese crumbles, griddled onions, Crystal hot sauce), Evel Knievel (double patty, cheddar, muenster, pepper jack, apple-smoked bacon, little griddle sauce), and the Lucifer -- a burg actually served on a square cut-in-half donut and topped with apple-smoked bacon and American cheese, presumably pasteurized by Toby Keith's bars.
Still to come: a Wagyu beef burger, an eggs benedict'd weekend brunch, and a veggie patty, also what they called that young Patty Wahlberg when he went through that vega-- oh crap, Donnie. Totally forgot. Last time it'll happen. Swear.