Every guy should visit New Orleans at least once in his life, if not for the sauced boob-flashing co-eds, then at least to finally meet that Cajun crocodile from Ninja Turtles in person. Saving you the plane fare by bringing NOLA to you, Boxing Room, opening Thursday

Slinging eats from a 26yr-old Louisiana native who has minded the pots 'n pans at CoCo 500 and Moss Room, BR's a faux alligator-skinned, Douglas fir'd ode to the Pelican Brief featuring Julia and Denzel! State, all owned up by the same dude who funded Absinthe, Arlequin Wine Merchant, and the Comstock Saloon. The menu's chock-full of refined creole classics like smoked chicken 'n andouille gumbo and corn maque choux-sided southern-fried chicken, plus holy-Jesus-how-did-they-source-that dishes like creole remoulade-topped deep-fried alligator, a Gulf flounder a la Meuniere, and a mirliton pepper stuffed with ratatouille, which'll ironically make it hard for you to fit into Cars 2. If beer is what you're after, hit the 28-seat zinc-topped bar that'll be pouring 37 brews (20 on tap, 17 in bottles), including Louisiana-based Abita Amber, Andygator, Jockamo, and Dixie, which probably won't work for Chicks, unless they somehow managed to cram it full of Sour Apple Pucker.

They'll stick to dinner-only for the first few weeks, but'll soon bust out entirely new lunch and brunch menus once they're settled in, though as of now dem give no gare-unnn-teee.
Recommended Video
Matt Pace Is The Only Chef Serving New York-Style Cajun Food
Previous Venue
Next Venue
Venue Description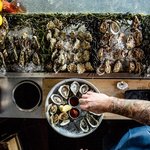 1. Boxing Room
399 Grove St, San Francisco, CA 94102
This Hayes Valley gem, situated in the back of a spacious former 19th-century Standard Shirts Factory, will satisfy all your Creole cravings with classics like oysters, hushpuppies, fried green tomatoes, black eyed peas, and po'boys. The theme carries over to the cocktail menu, where New Orleans favorites like the Milk Punch or Ramos Gin Fizz can help you pretend you're actually in the Big Easy and don't have to go to work tomorrow.