Wayfare Tavern's new FiDi rival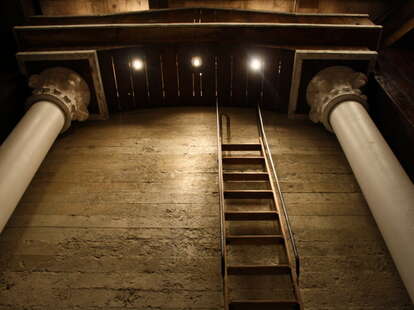 If you work in the Financial District, you know two things: 1) the only real dining options are Lee's Delis, and 2) Lee's Delis circumvent basic financial principles by somehow flourishing despite being so crappy. Giving the FiDi an actually solid dining/drinking option: Per Diem, opening today.
From the dudes behind The Brick Yard (but not the Straw or Stick Yard, obvi), Per Diem is a game-changing new food 'n drinkery with a Wayfare Tavern-rivaling interior that's half ship galley and half underground steam room, consisting of two floors' worth of dark wood, library ladders, marble pillars from Bali, and an awesome/huge chandelier, so this place will probably attract lots of swingers.
Worth-cheating-on-your-TrimSpa-diet edibles include lunch-only bacon & truffle egg salad sandos, pizzettes (like roasted broccolini w/ pancetta & white sauce), roasted pear and bacon lardons salads, prawn puttanesca pastas, and a duck leg confit served with bleu cheese tortellini and pomegranate fume.
Beer like Cherry Chocolate Bock and Hennepin Saison'll flow from 12 taps housed inside a converted antique water heater, while cocktails'll be mixed behind a walnut-wrapped marble bar, and include a chose-your-booze-venture 'tail with Belvedere or Nolet's gin, served with an olive tapenade/bleu cheese crostini, and called the Blue Chip Martini -- too many, and collegiate recruiting bribes won't be the only thing under the table!
They're also planning to start a private bottle ownership program to let you bring in and store your own booze, plus they'll have backgammon and a pool table in the upstairs dining room that can be turned into a communal eating one and curtained off from public view, much like Lee's diabolical plan to open 37 more delis in a two-block radius.