Everyone likes a good do-over, but sadly, the extra-life-equipping up-up down-down move still only works in Konami games. For a new old restaurant making the most of theirs, check out Paragon. Redesigned by the same dudes who did Town Hall, Anchor & Hope, and Salt House, Paragon starts looking considerably more woodsy as of this week, upping its block-from-the-ballpark interior with subway tiling, reclaimed wood paneling (thank you Oregon barn), and a massive antlered deer triptych in the dining room with Professor Plum and the revolver. They've also gutted the lounge (and ditched all the white table cloths), adding a communal table made of rusted metal and reclaimed Koa wood, plus antique door knobs that double as coat hooks, and a knockout beer-list-equipped chalkboard that'll detail their 12 draft/20 bottled brews, including the 7% Goose Island Matilda from Chicago, the $30, 22oz Lips of Faith La Folie from Fort Collins, and locally brewed wheat Speakeasy White Lightning, also what "Black Thunder" Willie Mays Hayes tells Jesse Ventura in the movie within the movie in Major League II. The menu also gets a gastropub-ish face-lift, with highlights like duck fries (Yukon potatoes, duck confit, and Fontina), wild boar enchiladas, and porcini aioli'd mushroom cigars, which Mario has always been told would be Super to smoke when he's bigger. Oh, and if you're looking for somewhere to hold your next Babysitters Club meeting (Kristy's house is lame), hit the 100yr-old shipping/receiving desk (aka the hostess stand) and ask about the new 60-person banquet room where they've got a cache of military base lockers that -- Contra-ry to popular belief -- will actually be stocked with wine.
Recommended Video
Can the NYC Steakhouse Survive?
Previous Venue
Next Venue
Venue Description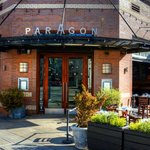 1. Paragon
701 Second St, San Francisco, CA 94107
Just a block from AT&T Park, this SOMA gastropub is a reliable spot when you're looking for upscale, classic American food before a game. The full bar has 12 craft beers on draft (mostly from California), plus bottled brews, cocktails, and wine. The menu features an even mix of meaty entrees (roasted chicken, beer-braised short ribs, New York strip steak) and small tapas bites.