Building a successful monopoly is damn near impossible these days, especially when your cheating ass whore grandma is the banker. For a monopoly-cementing (Park!) place that's as delicious as granny is conniving, check out Claudine, opening today.

From the dude behind Claude Cafe and Gitane, Claudine is the newest-est edition to FiDi alleyway Claude Ln: a second-story, 31-seater future-ified via slick lime green accents, glossy black lacquered floors, and a 14-stool, wine tap-only bar that's circle-shaped, like Jonah Hill before he made the Superbad decision to become skinny/unfunny. Food-wise, there'll be daily crudo 'n oysters, a compact 12-item menu of bistro-y eats from the Gitane chef (like a crispy pork salad, a Parmesan'd meatball, and a NY strip w/ a red wine jus), and a trio of desserts (from Range's old pastry chef) that includes a glass jar-encased s'more that's the size of a hockey puck, and is thus no doubt the Bomb, ay? Booze includes nine tapped vinos (three whites, six reds) hand-selected by the Saison sommelier, plus four bottled beers all from California, including Racer 5 and PranQster, aka Tom Hagen -- like, how good was that one with the severed horse head?! ROTFLOL!!

Oh, and because they want to appeal to have-a-real-job FiDi-ers, they also rock a temp-controlled pantry selling random cookware and lunch-and-dinner to-go goodness, though not any do-not-pass-go goodness, which is what you relish dishing out exclusively to your asshole grandma.
Recommended Video
Orange Wine May Be the Rosé of Fall
Previous Venue
Next Venue
Venue Description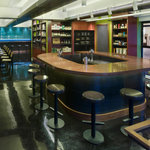 1. Claudine
8 Claude Ln, San Francisco, CA 94108
Apart from its lime green walls, Claudine's noteworthy features include wine on tap, a menu of French cuisine made from local ingredients and an outdoor patio area for dining. The Happy Hour specials and the meat/cheese plates alone should be enough to pique your interest.