Run by a Land of the Rising Godzilla!!! Sun chef who landed in the US in 2006, Onigilly is a new, simple-modern FiDi lunch-ery (from the formerly pop-up-only Off The Grid mainstay) doing awesome Japanese food that involves seaweed and rice, but totally isn't sushi. The super compact spot (which somehow crams in a mezzanine, too) specializes in triangle-shaped sushi burritos, put together using an ordering mantra eerily similar to that fast food place that rhymes with shmishmotle, namely: You Choose Your Style: Similar to that crucial moment in high school when you decided you were totally an Abercrombie & Fitch guy and not some American Eagle loser, you'll have to make an all-important decision whether you want: 1) a set of three onigillys; 2) a rice bowl with three toppings (plus edamame); or 3) a salad bowl that comes with -- wait, seriously? You were thinking of getting a salad bowl? Then You Flavor Flav It Up: Like Stuart Scott rummaging through his glass eyeball drawer, you've got 17 options for different fillers, which you can individually choose, or go with pre-set options like the Seafood Duper (snow crab, tempura shrimp, and BBQ eel) or the Meat Complete, which involves ginger beef, teriyaki chicken, and spicy garlic bacon, which also totally isn't sushi. Because it's spicy garlic bacon.
Recommended Video
These Onion Rings Are Stuffed With Cheeseburgers
Previous Venue
Next Venue
Venue Description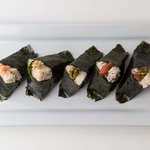 1. Onigilly
343 Kearney St, San Francisco, CA 94108
Pronounced oh-KNEE-ghee-lee, this Japanese fast food joint serves traditional fare made with brown rice and a gourmet filling wrapped in seaweed. Onigilly has three locations Downtown and the scoop is the same: order onigilly by the piece or choose from a list of set meals that come with sides of the good wrapped stuff. Try the salmon filling, soboro, or takana onigilly and be prepared to wait in line.