There's no reason why sushi menus all have to be mundanely identical -- after all, there's more than one way to skin a cat... and even just doing that once would lead to a bunch of really inventive rolls. Getting more appetizingly creative: Izakaya Ninja, now open.

Owned by a guy named Ben Hur (seriously) who was sent into slavery by a Roman friend only to regain his freedom and come back for revenge (jokingly), Ninja is a spacious sushi slinger and sake bar in Lower Nob that'll serve not-your-average sushi rolls in a not-your-average sushi interior with muraled walls that'd be more fitting in the SFMOMA than a Japanese eatery. There're 40 roll options in all, ranging from the awesomely named (3 Amigo, Naked Ninja, Popeye) to the awesomely on fire, including the Holy Cow (Wagyu nigiri broiled with a blowtorch) or the "Flaming Ninja", with crab, maguro, and shrimp tempura served in a flame-engulfed, aluminum foil boat. And for the less pyromania-inclined, the exceedingly nice staff will bring you any of 12 Far-Eastern (Close-Western) Ninja specials like a Japanese pizza (topped with fish flakes), or an egg roll the size of an omelet -- eat it, and your stomach will fittingly fold over itself.

And because you'll need something to help wash down that monster roll, they'll offer 12 premium sakes and super-cheap pitchers of Korea's 4th most popular/1st most racially insensitive beer: Oriental Brewery's OB, enough of which'll have you demanding everyone give you some skin.
Previous Venue
Next Venue
Venue Description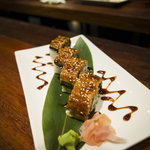 1. Izakaya Ninja
900 Bush St, San Francisco, CA 94109 (Pacific Heights)
Open until 2am every night, Izakaya Ninja's a must if you have a late-night Japanese food craving (though it's plenty good enough to visit during normal eating hours as well. The sushi is solid but you'd be remiss to skip over the izakaya fare in which they specialize -- try the Okonomiyaki, a japanese pancake with seafood. There's plenty of room if you're rolling with a big group, and plenty of flavored soju and Japanese and Korean beers if said group is thirsty.