While "check out the rolls on that elephant" is a very mean thing to say to someone who doesn't eat enough sushi, "check out the rolls at Elephant Sushi" is very appropriate to say when you're super-excited about this new family owned/operated (seriously, the mom's doing prep in the back and one of the chefs' wives is your awesome server) 39-seater with driftwood fish on the walls and Edison chandeliers made by a chef/carpenter/electrician/champion ribbon dancer (one of those is a lie). The goods: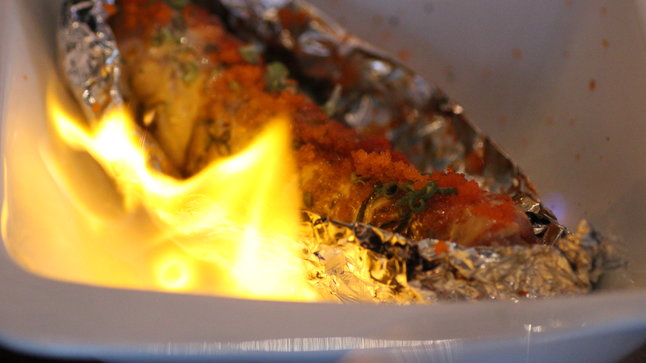 Their ever-expanding roll menu debuts with originals like the Red & Yellow (spicy scallop, avo, red tuna, fresh mango, sweet soy glaze), the White Out (yellowtail, avo, seared butter fish, garlic ponzu), and the sweet-soy-glazed Flaming Sea Bass, which also comes with its +1, special friend Kathy Griffin spicy tuna, masago aioli, and Japanese chili, and is baked by wrapping it in foil and SETTING IT ON FIRE WITH A BLOWTORCH.
If pyrotechnics aren't your thing, you should avoid Rammstein concerts, but should not avoid offerings like cast-iron-skillet-baked Sizzling Mango Sea Bass, truffle-oiled, seared yellowtail w/ ponzu & garlic chips, and Himalayan Trout served cured on a block of pink Himalayan rock salt. None of that is a lie.