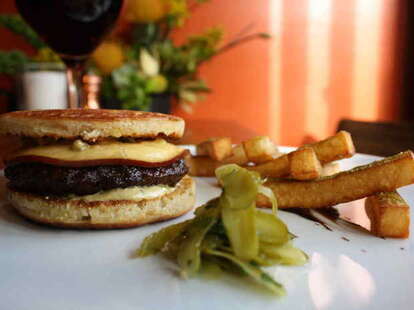 They claim that good things come to those who wait, but that's usually only at the high-end restaurants that don't pool their tips. For an epic meal definitely worth waiting for, get in line for 17 on 17th at Maverick.
Launching Mar 15th, this weekly Tues-only promo available at 17th Street's comfortingly compact sustenancery will offer 17 (and only 17) patty-lovers a limited edition life/artery-altering "butter burger", cooked up by Maverick's new churned dairy-loving chef de cuisine and paired with two sides and a glass of vino for 17 bucks, or one Glenn Robinson. Made with 70% Meyer Ranch beef chuck (which's cured for 24hrs) and 30% butter all shoved simultaneously into a meat grinder, the patties are individually vacuum sealed and sous vide'd with yet another stick of butter for 20mins, before being seared in a buttered cast-iron skillet and served on a housemade English muffin with melted smoked Gouda and "Martini" mayo, a concoction made with juniper oil, olives, and vermouth, just like Rip Torn's bloodstream. Accompanying less-butter-filled sides include cornichons tossed in truffle oil, and steak frites that're dusted with green garlic chili powder, fried, and then dipped in a fermented black garlic ketchup, but not catsup, because if you eat that, you will die... sometime later in life, as everyone does.
And if that's not enough, they'll also throw in a generously poured, butter-complementing glass of Pinot from Poppy, which is based in Monterey -- another place where good things come to those who... can't wait to get to Carmel.