From archways and central heating systems, to concrete and the calendar, the Romans are responsible for a lot of great things that can be enjoyed with multiple partners we now take for granted. Sharing yet another of Rome's enjoyable inventions with SF, Locanda, now taking reservations.

The latest drool-inducing venture from the husband/wife duo behind the Delfina empire, Locanda is a modernized Roman osteria in a walnut-rich interior space (including the bar and table tops) accented by Q*bert-like geometric tiling, a coffered ceiling (think giant tic-tac-toe board), and a Roman-inspired bathroom with an ever-flowing sink that turns on when you walk in, but honestly, who wouldn't -- you're enchanting!! The open kitchen'll be minded by Delfina's exec chef (who just finished a two-month "menu research" trip to Italy) and serve up classics like housemade pastas (saltimbocca, carciofi alla giudia, carbonara), wood-fired/charcoal-grilled/rotisserie'd offcuts (oxtails, lamb brains, tripe, tongue, cheek, trotters), and Southern Italian-style pizza bianca, which is a cross between a flatbread and focaccia topped with sea salt/olive oil and served at the table when you're seated, assuming your arms and legs are safely inside the osteria. Drinkswise, the bar'll be pouring a wine list that'll use the Roman Empire as its vino boundaries (so it'll include German, French, Italian, and Spanish offerings) and the first-ever cocktail program from the Delfina Group featuring upwards of eight signature drinkables inspired by Italian liquid-gredients like grappa and Campari, who remains one of only two coaches to direct three different colleges to a number one seed in th... oh, you said CAMpari. Right.

There're also plans to install a large glass case in the open kitchen, where they'll hang the restaurant's house-cured charcuterie like pancetta, lardo, guanciale, and salami, which, thanks to those very same Romans many a man has learned to hide now people everywhere can enjoy!
Recommended Video
Add Some Wine to a Manhattan. Trust Us.
Previous Venue
Next Venue
Venue Description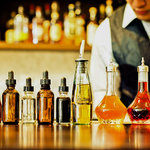 1. Locanda
557 Valencia St, San Francisco, CA 94110
Younger brother to game-changing Italian stalwart Delfina, Locando's a bustling osteria and bar that's earned a following of its own thanks to flawlessly fried Jerusalem artichokes and a thoughtful amaro-heavy cocktail program that get things started before you move onto the show-stopping selection of pastas (don't miss the cacio e pepe) and grill selections like Berkshire pork saltimbocca.