Just opened by the team behind Starbelly and Beretta, this warm, grey-and-white-bricked Latin-American take on a steakhouse features two floors' worth of seating, with a copper-inlay'd communal table, deep brown leather booths, and a giant mural of five bulls that somehow doesn't include Bill Wennington

Like any good Latin-American take on a steakhouse would, the menu features smaller dishes separated into cold (Ceviche de Pescado: halibut, aji Amarillo, sweet potato, fried corn) and hot (Vigorón-roasted pork belly, cabbage, jalapeno, lime, yuca), and then there's the carnivore-tastic Asador section with grilled everything, from New York strip, to an Asado Mixto (w/ an assemblage of peppers, chorizo & blood sausage), to beef short rib, which would really appreciate it if you called it beef vertically-challenged-rib

And because cocktails are a significant source of alcohol, they'll flank an extensive wine list and ten brewskies with a tipple roster separated into "Classico" (martinis, Old Fashioneds, Manhattans) and "Nuevo", which features the rye/bourbon/10yr tawny port Cure For Pain, which -- if those bulls are any indication -- will probably Perdue quite well.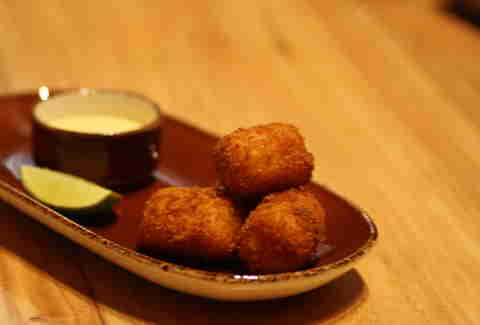 Previous Venue
Next Venue
Venue Description
1. Lolinda
2518 Mission St, San Francisco, CA 94110
From the Beretta team, this Argentinian steakhouse in The Mission is the perfect dark restaurant to share wood-fired meats, ceviche, empanadas, and a bottle of Latin wine (or, you know, a Fernet and coke). You have two floors of seating to choose from and can even rent out an entire level to throw a killer meat-fueled bash. We recommend getting a group of your closest friends together so you can taste through the endless array of hot and cold small plates and the ten (!) different kinds of grilled meats, which range from blood sausage to a giant, 72oz bone-in ribeye steak.