Bacon pork sausage with a fried egg & Sriracha? Um, yes.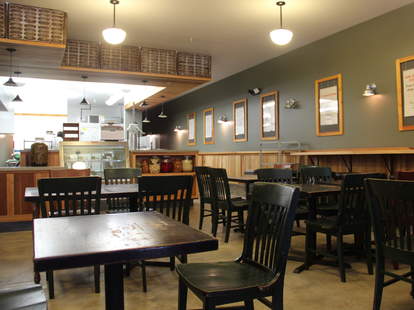 Juuuuuust now open in the old Discolandia record store, Pig & Pie's a record-free, yet still 45-person sausage-eria, with a plethora of posterior-to-chair options (banquettes by the windows, wiener-factory-facing counter seats, side alley roosts), plus an iPad-operated cashier system that belies a homey interior with hung vintage hot dog trays and shelved pickling jars that're no doubt filled with something dill-icious
Prepare to house eight heaped-with-awesome meat tubes like the Banh Mi (garlic- & pepper-stuffed pork sausage topped w/ a classic Vietnamese dress) and the Breakfast (a sage- & ginger-filled "bacon pork" piled w/ a fried egg & Sriracha), plus three rotating specials that'll include the still-in-the-works Turkey Dinner, which hopefully comes with more cranberry sauce and less racist jokes from Grandpa Chuck
And because they'll make you 5x prettier and 10x more interesting, get in on three ice cold drafts while you're there: Linden St. Burning Oak Black Lager, North Coast Brewery Le Merle Saison, and Scrimshaw Pilsner, which right about now, sounds just dill-ightful.