Rotisserie + Bacon = Awesome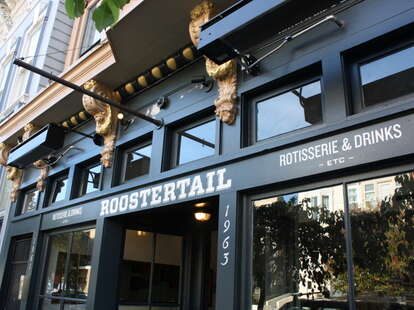 Unless you're talking about a Neve Campbell/Denise Richards topless pool makeout sesh, everything is better with bacon, so check out a spot doing Wild Things with everyone's favorite pork product: Roostertail, opening tomorrow.
Located in The Land Of People Too Mature To Go To The Marina That Often, Roostertail's a rotisserie spot that does its best work when pairing its spit-roasted, free-range, air-chilled chickens with pork strips, a notion dreamed up by two holy matrimonized chefs and plated in an upscale-ish interior with 1400sqft of walnut dining counters and ash-colored floors.
The birds'll be sliced Fruit Ninja-style (whole, half, or quarter) in an exposed kitchen, with pig-accompanied goodness including the Chicken & Bacon on herb slab w/ arugula pesto mayo, two salads (a Cobb and The Rooster), plus sides like warm bacon slaw, and Brussels-bacon hash, which the Germans refuse to smoke unless the EU cuts the fat.
Your drink-cabulary will be expanded at a Bordeaux stool-equipped black granite bar, where they'll pour tapped brewskis and wine-skis, vino cooler cocktails with seasonal purees, draft root beer, and sodas that're made in house, so once again Gregory is totally encroaching on the diagnostic territory of Dr. Pepper.
And before you go "gross, there's only upscale-ish walnut dining counters? What do they think this is, Western Addition?", just hold off, because they'll also be opening up a cozy outdoor patio in the near future, but not a swimming pool, or it'd be the leer future.