Turkish meatballs and feta cheese cigars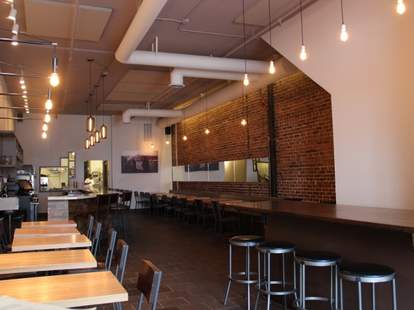 Because sometimes you've had your Fillmore of deep-fried hot dogs, expand your eating horizons at Troya Fillmore, the second outpost of the Inner Richmond's Medi hideaway, now open inside the old Citizen Cake.
The menu's from a Terzo alum and mostly small plate-driven, featuring a shload of share-ables like zucchini fritters with mint and yogurt, feta cheese "cigars" (w/ pistachio, honey & cinnamon), and minced-beef-stuffed chili flatbreads, plus skewered meats (marinated lamb!) and grilled Turkish meatballs topped with yogurt, pickles, and Persian cucumbers, which're impossible to resist... unless you're Leonidas I. And because all of this cucumber tension is putting you seriously on edge, Troya'll calm your nerves with Saison-consulted wines ranging from locals to the more weirdly unique (including Turkish and Lebanese varietals), plus on-tap pint-fillers like a Turkish brew called "Efes", and Bay Area beers such as Speakeasy's Prohibition Ale, Big Daddy IPA, and Trumer Pils, which you'll want to endlessly pop.
And because it's doctor recommended (!), try dessert from their entirely word-of-mouth menu including a Kunefe (shredded pastry dough stuffed with cheese & honey) and pistachio baklava -- have too many of those and they'll expand more than just your eating horizons.