Bacon jam burgers and... wait, bacon jam burgers?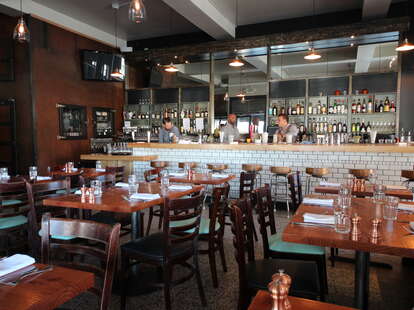 Because your actual corner store only has overpriced alcohol and emergency TP, head to The Corner Store, a brand-new, soft-opening-today restaurant in RichmondLowerPacHeightsJapantown-ia with neither of those, and all kinds of American gastro-bistro goodness. A peek
Eye-Catchers: Set in a completely renovated space that was once a soda shop/speakeasy/lady-of-the-nightery with a 40-seat, heated outdoor patio, TCS is a Bi-Rite-sized resto... with a 20-seat, heated outdoor patio (!) dominated by a mix of wood/white tile, with blonde oak and ash butcher block tables, and a subway-ceramic-backsplashed bar
Stomach-Fillers: There's weekend brunch, weekday (rhyme alert!) lunch, and daily dinner service, all from a Salt House alum and featuring the likes of duck confit over Anson Mills grits, an herb-crusted pork chop on a hash-y bed of nectarine marmalade fingerling potatoes, snap peas & pancetta, plus the pièce de résistance: the Corner Store Burger with bread & butter pickles, garlic aioli, pickled red onions, and bacon jam, or what the Sig Alert says whenever a pork truck crashes into an industrial smoker on the 101
Liver-Ticklers (hehe!): With a bar program from the guy previously behind Foreign Cinema's, TCS's pouring 20 beers (13 bottled, seven draft) and mixing up 'tails like the Apple of Accord (applejack, single malt Scotch, chartreuse, lemon, grenadine, egg white) and the Silk Road w/ blood orange vodka, almond, lemon, honey, and Creole Shrubb, or what you end up using when your corner store's outta emerg TP.