Since the last thing you got from a trailer left you permanently itchy down there, ensure the next is something you'll be totally proud to inform future sexual partners about with Carmel Pizza Company, now open in Fisherman's Wharf (yes, Fisherman's Wharf). Run by a couple with 20yrs' worth of Italian deli-ing and culinary study in Tuscany, this stationary, cherry red 'za trailer somehow houses an Italy-imported, wood-burning pizza oven capable of churning out pies at a rate of 5mins apiece, including suggested topping combos like a breath-defying Italian sausage-pepperoni-onion, or an Italian buffalo milk mozz w/ heirloom tomatoes, sweet basil & prosciutto crudo, which you can just never take around polite company. Almost as awesome as that crude/crudo wordplay: the La Porchetta -- one of two sandwiches also on the abbreviated menu -- which layers crispy pork belly on pork loin, then douses both in Italian seasoning and tops 'em with arugula. Oh, and there's fenced-in outdoor seating too, plus, if you hate fenced-in outdoor seating, they have a completely portable wood-burning oven you can book for all-you-can-eat private pizza parties, assuming you're itching for more.
Recommended Video
This Pizza Has Fried Chicken for Crust
Previous Venue
Next Venue
Venue Description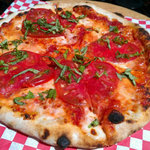 1. Carmel Pizza Company
2826 Jones St, San Francisco, CA 94133
Carmel Pizza Co. is the project of a couple with 20 years of Italian culinary study in Tuscany, and, man, has it paid off. The stationary, cherry-red pizza trailer somehow houses a wood-burning oven that churns out delicious pies in only 5 minutes. Suggested topping combinations include the post-meal-gum-requiring sausage-pepperoni-onion and the buffalo milk mozzarella.