Pizza cooked four ways... at once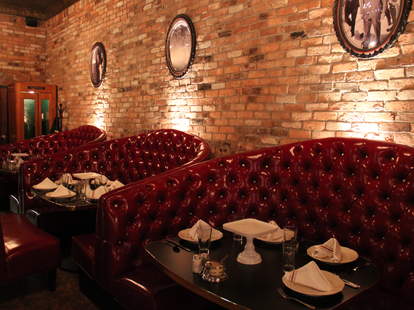 The Deal: The newest venture from the North Beach pie god behind Tony's Pizza Napoletana and Tony's Coal-Fired Pizza & Slice House, Capo's is a sit-down Italian restaurante that looks like a front for a speakeasy (see: probably trap-doored corner phone booth), but definitely isn't because, well, there's a bar
The Food: Even though you're seeing the classic Italian side of the menu's Chicken Vesuvio erupt right here, the menu's gonna be heavily pizza-focused, including one amazing, world-exclusive pie (w/ prosciutto, parm, arugula) cooked four times in four different ovens for an "extra special texture"
The Drink: The whiskey/bourbon/scotch/whisky list's almost 100-strong, and's used generously in a cocktail program with appropriately named fun-time-ensurers like the above Cyrus Noble-featuring "Made Man", which's either a sort of bitters-less Manhattan they age in new oak barrels for 4-5 weeks, or something you can't order if you're half-Irish
The Bonus: It's cash only, but who cares, because they've got a really fancy old register! Right? RIGHT??