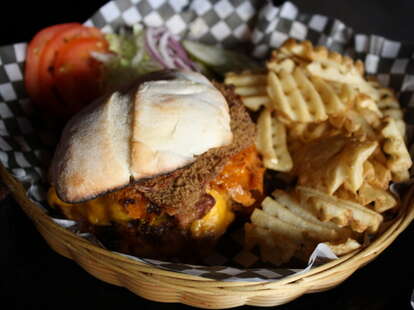 It takes balls to open a non-Italian restaurant in an Italian neighborhood -- seriously, give those old guys a bocce set and they'll basically let you do whatever you want. Possessing the stones to bring Southern food to North Beach: Tupelo, grand-opening today.
Adding some Southern flair to Tony Danza's favorite 'hood, Tupelo is a new, candied-bacon-equipped dive-bar-turned-fried chickenstaurant named after Elvis' Mississippi birthplace, with an interior reminiscent of an abandoned Southern Victorian thanks to distressed mirror paneling, grandiose chandeliers made of old motorcycle parts, and a vintage-y bar with four copper-finished beer towers, also Sauron's go-to spring break destination. Finger-lickin' fry-ables will come from an Aqua-trained dude, and're highlighted by an app-sized baked brie mac 'n cheese, the man-sized 1/2lb Tupelo burger topped with extras like brown sugar-candied bacon/fried organic eggs, and true Southern grits served with six dishes, which should include Rooster, but actually include sauteed Creole shrimp, and pork belly. And because no self-respecting Southern food-ery would be caught dead without it, they'll have Schlitz Malt Liquor by the can, plus a dozen standard-ish beers on tap, and a full bar with post-dinner-service bar bites 'til 1a and behind-the-bar flatscreens showing nothing but SEC games on Saturdays -- demand something else and weirdly you're not a Gamecock.
Oh, and because they're expecting their live music permit any day now, they've outfitted the joint with communal tables that fold up into the wall, a pullout stage, and a massive trap door so they can stow away all their lounge furniture during shows, assuring there's room to dance your pallinos off. Shake your patonk-adonk?