Since you flat-out refuse to eat doughnuts that aren't made by someone who has a master's in food anthropology, went to grad school in NY, and previously gave foreign dignitaries tours of American cuisine for the government, you are really lucky that Doughnut Dolly just opened in West Oakland. DD's named after the women in WWI who provided doughnuts and coffee to the soldiers (seriously), and the lady behind it has been in kitchens since infancy (as an in-store picture of her mother and her in the kitchen of Chez Panisse proves) and now devotes her time to hand-crafting a single, sugar-rolled, filled-to-order 'nut she injects with rotating flavors like this week's chocolate-hazelnut, raspberry jam, and her signature "Naughty Cream", which you'll only get if you're really lucky. Or you pay for it.
Recommended Video
Will Broth Cafes Become the New NYC Coffee Shops?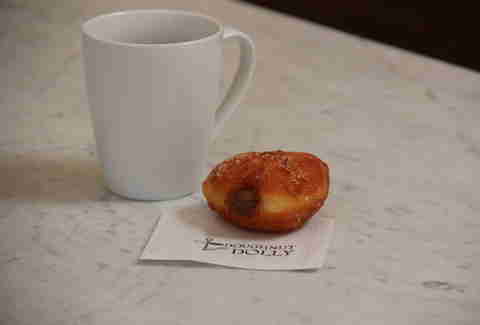 Previous Venue
Next Venue
Venue Description
1. Doughnut Dolly
482 49th St, Oakland, CA 94609
While you were busy wasting your college years perfecting various pong throws (behind the back!), the woman behind Doughnut Dolly was hard at work getting her master's...in food anthropology. Yes, go ahead, regret your major decision forever. Anyway, Hannah Hoffman is passionate about doughnuts and is making them the way they are meant to be across the Bay in Oakland.