Officially the best secret you've heard since Tiffany M told Stephanie C who told Brittanii T who told you that Lindsay K totally thought you were "funny", this off-menu, totally-need-to-know po' boy sando is an artery-tastic combo of steak fries, bacon giblet gravy, and melted cheddar on toasted French bread spread with mayo.
Recommended Video
Potato Skin-Breaded Queso Balls Will Make All Other Apps Obsolete
Previous Venue
Next Venue
Venue Description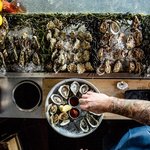 1. Boxing Room
399 Grove St, San Francisco, CA 94102
This Hayes Valley gem, situated in the back of a spacious former 19th-century Standard Shirts Factory, will satisfy all your Creole cravings with classics like oysters, hushpuppies, fried green tomatoes, black eyed peas, and po'boys. The theme carries over to the cocktail menu, where New Orleans favorites like the Milk Punch or Ramos Gin Fizz can help you pretend you're actually in the Big Easy and don't have to go to work tomorrow.