The greatest thing to come out of Scandinavia since the Nobel Peace Prize socialist healthcare Elin Nordegren wait... yeah... Elin Nordegren, Plaj is a schmancy Scandinavian-staurant now open inside the Inn at the Opera. There's a 50-seat interior (non-lit fireplace, intimate hardwood seating, a silver-chained lamp-lit eight-seat bar) Leif Ericson would totally plunder, way more importantly though (especially if you liked this video), it's got an honest-to-goodness Swedish Chef

Like rent in your one-bedroom San Francisco apartment, his menu's split four ways: starters (Hagen!) like hollandaise-covered white asparagus topped w/ a 63°C egg & fried sourdough; seafood (Fjord!) like crocodile(?)-poached lobster salad w/ whitefish caviar, horseradish, avocado & chili; meats (Beta!) like birch syrup-glazed pork belly with potato dumpling kumla; and dessert (Godis!) like Cardamom Spoon Crème Brulee

And because sexual performance is totally overrated, drink your way through a bar stocked with Scandinavian 'tails (try The Plajer: Buffalo Trace, dried apricot cinnamon gastrique, strawberry) and beer (Beer Here Dark Hops hoppy Black Ale, Oppigards Well-Hopped Lager...), which you'll totally want to plunder. So Leif already.
Recommended Video
Where to Get the Best Waffle Fries You'll Ever Eat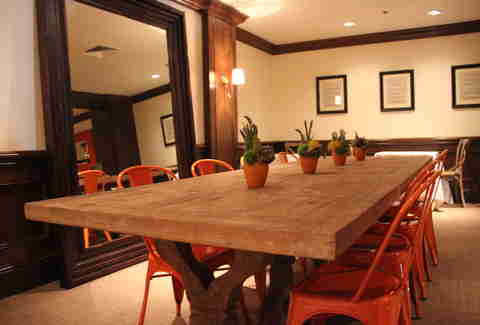 Previous Venue
Next Venue
Venue Description
1. Plaj
333 Fulton St, San Francisco, CA 94102
The greatest thing to come out of Northern Europe since Lisbeth Salander, Plaj is a fancy Scandinavian-inspired restaurant in the Inn at the Opera. In a beautiful interior that's got only 50 seats, intimate hardwood seating, and a silver-chained lamp-lit bar, Plaj is serving up authentic Nordic fare, like elk loin, coriander-crusted tuna, a charcuterie plate, and Scandinavian cheeses, all of which are served in small-ish portions to encourage more of a tasting menu approach.