An outdoor patio straight out of a painting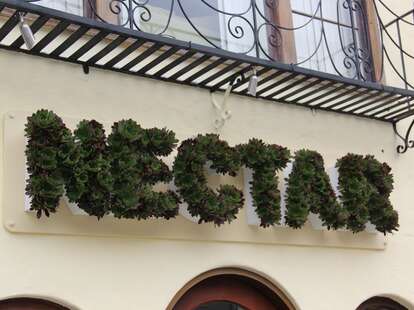 Not just what the gods drink whenever they have to spend any amount of time with lame ass Hephaestus, Nectar's also the just-opened Katz Bagels-replacer in Lower Haight -- a must-visit if it's sunny thanks to a huge, furnished outdoor patio with SoCal-esque red tiles, high walls for asylum-style quiet, and enough lush greenery/talking Bengal tigers to make you swear you're in The Jungle Book. Minus the talking Bengal tigers
The renovated interior's straight out of the bazaar from Raiders of the Lost Ark, with painted stuccoed walls hung with desert plants, large rounded archways, and artwork made of piano keys and old skates. Why'd it have to be skates?
Not eschewing what the old tenants did best, Nectar's still rolling out bagels and spreads (chive, jalapeno, honey date, strawberry), plus they're now offering up sandos (try the tomato-basil-goat cheese) and flatbread 'zas, with topping combos like arugula, caramelized onion, beets, and goat cheese, or what Slim Charles says whenever Method Man's all "Yo, yo, yo Slim, what was the nickname of that one street baller who used to snatch dollar bills off the top of the backboard?"
Plus in the very near future they'll be instituting a beer and wine program, which'll be great to enjoy out on the patio -- just make sure to Shere some with your friends.