Turn your leftovers into best-overs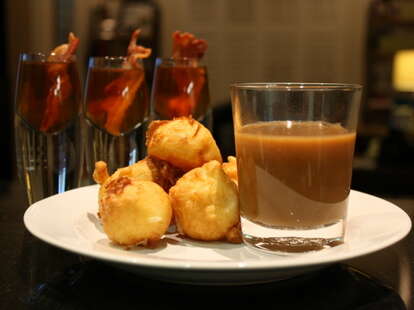 Since they think you're a freeloader anyway, you might as well live up to the name and swipe all your family's Turkey Day leftovers to use in these sweet recipes, provided by some of SF's best chefs and mixologists.
Deep-Fried Mashed Potato Balls with Bacon Bourbon ShootersFrom Naomi Beck, Straw As you'll no doubt make a non-famine Ireland's worth of potatoes Nov 24th, follow this recipe to ball 'em, fry 'em, and wash 'em down with an easy-to-make "bacon bourbon shooter", also a Wahlberg thriller you'd actually consider going to see.
This recipe requires three cups of bourbon and a pound of bacon. Discuss.
Turkey Leftover Cocktail From Kevin Diedrich, Jasper's Corner Tap & Kitchen Shake off that tryptophan daze with one you're more accustomed to via this crazy-simple liquid-blanket-inducer featuring sweet potato mash and allspice dram, and topped with melted marshmallows and cinnamon.
Click to learn how to make potato-y liquid courage
Turkey TostadasFrom Scott Youkilis, Hog 'n Rocks / Maverick Giving your Turkey Day a sexy Latin twist (just like that time Aunt Margaret brought her well-oiled pool boy Carlos), this recipe takes everything from stuffing to pumpkin pie and combines it into an insanely delicious looking Latin treat...whoa, Margie, hands off!!
Hello, tostada shells made of stuffing
Wait, There's PieFrom Jon Gasparini, Rye / 15 Romolo / Rosewood Can't stop thinking about Aunt Margaret asking Carlos to fish the gunk out of her clogged filter? Of course you can't, at least until you make this shooter, which mixes the mind-numbing properties of tequila with the mind-numbing awesomeness of pumpkin pie.
Try to resist the impossible-to-stop-making-ness of this recipe. Can't do it, right?