Turf and turf. And booze.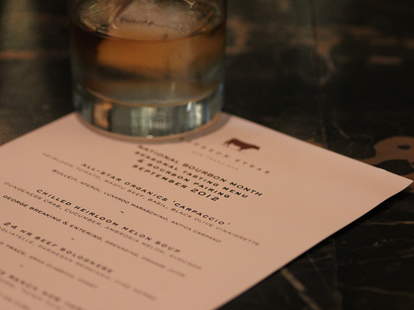 It's September, and you know what that means: National Yoga Month! But, also, National Bourbon Month, so to celebrate, Bourbon Steak has rolled out a five-course, five-Kentucky-cocktail dinner guaranteed to put you in the Feathered Peacock pose (i.e., preening around like you're something). Here's a sweet, sweet glimpse at each dish -- eat with your eyes now, and your mouth later
Allstar Organics "Carpaccio"Raw Wagyu beef, heirloom tomato, basil, and black olive vinaigrette with an aperitivo of Aperol, Luxardo Maraschino, Carpano Antica, and Bulleit, strong enough to turn you from Steve McQueen into some guy who can't spell
Chilled Heirloom Melon SoupSip on a combo of St. George Breaking & Entering, grenadine & OJ while enjoying this cold soup of Dungeness crab, cucumber, avocado, and ambrosia melon, trophy wife of Back to School's Thornton Melon
24hr Beef BologneseTaking all damn day to make, the meat sauce is ladled over house tagliatelle, topped with Parmigiano Reggiano and fine herbs, and served alongside Buffalo Trace with Gran Classico and honey
Roasted Schmitz Ranch New York StripThe main event comes with fava beans, local wild mushrooms, tater tots, and Bordelaise sauce, plus Angel's Envy served with a giant ice cube, or what the rapper became while making the album Laugh Now, Cry Later... While Downing A Gallon of Ben & Jerry's
Berry ShortcakeFinish off with mixed berries, lemon crème, and sweet lavender whipped cream (totally different from crème), washed down with a Hudson Baby Bourbon barrel-aged in-house -- hopefully your tolerance isn't baby, or you'll be one downward-facing dog.