The Misfit's Thrillist-Only Pre-Opening Party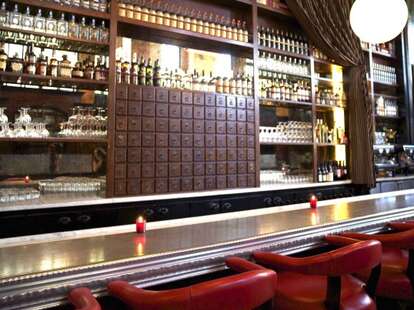 It's always great to find out you can get in somewhere early, even if that somewhere is just Arizona State. Just kidding, of course -- that would be awful. Getting you in somewhere much, much harder, Thrillist's Pre-Opening Party at The Misfit.
Just for being a handsome reader of the first men's lifestyle publication ever to be rec'd by both cool dentists and the people who hate them, you can get a first look at the new American bistro (located in the former Anisette space), which has been totally overhauled to conjure up the building's historic '30s-era romantic feel with red-leather high top seats, bright gold & black striped curtains... and a giant mural of naked women frolicking. The first hour'll have a hosted open bar, w/ 'tenders doling out brews like Duvel Green and Ommegang Hennepin; they're also going to be making TBA specialty cocktails and pouring their White Sangria, which owns infinity more Beach Boys CDs than the red version. Gratis vittles for the first hour include mini lobster rolls, French dip sliders, and homemade spicy caramel nut corn, then they'll be offering happy hour prices after 11p on both food and drinks, with the menu expanding to include a burger w/ shoestring fries, which will in turn expand you
The first 100 people to RSVP to the email below'll get into the party, and the following day the restaurant will actually open to the public, much like ASU does, come March 15th.